Look for a quality installation. Take the right steps.
Poor quality glass, improper adhesive selection, or a hurried replacement process can cause problems, such as: air whistles, water leaks, rust, distorted vision, heating or cooling discomfort, or loss of vehicle safety features. To help avoid these problems, we recommend that you use only certified professionals with the proper credentials to do repairs/installation jobs. A properly installed windshield replacement involves a multi-step process and use of sophisticated adhesive systems. The installation usually takes between 60 – 90 minutes and involves multiple steps. After the installation, additional time may be required for the adhesive to cure before you can safely drive your vehicle.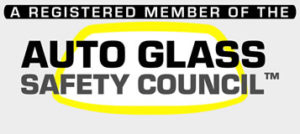 20 Steps to Proper Windshield Installation
Before Work Begins
Inspect vehicle for any pre-existing damage
Protect all vulnerable areas of the vehicle
Parts and Glass Removal
Remove moldings, wipers, cowl, and trim from windshield
Cut broken windshield from the pinchweld and remove
Pinchweld Preparation and Fitting
Trim existing urethane bead to 1/16″ thickness: Full Cut Technique
Clean out debris
Dryset windshield in opening to assure fit
Primer and Urethane Application
Based on temperature, humidity, air bag, and time the vehicle can remain out of service, select the proper adhesive(urethane)
Apply pinchweld primer to pinchweld surface
Clean inside of replacement windshield
Apply glass prep to windshield perimeter
Apply primer to windshield perimeter
Apply urethane adhesive
Glass and Parts Replacement
Set windshield in place, level and center the unit
Reset the trim molding
Reinstall wipers, cowl, and any other devices detached during the glass removal
After Installation
Check windshield for leaks
Inspect and clean vehicle
Provide instructions to the car owner
Keep vehicle out of service until safe drive away time has been obtained.Note: Be sure to ask your installer how long the adhesive will take to cure. Depending on weather conditions, temperature, humidity and the adhesive used, it can take between 30 minutes and 24 hours for the adhesive to cure to a safe vehicle drive away time.